---
m-ball (2018 - ) Interactive Sound Design
m-ball is a free-play, interactive, musical instrument for both children and adults. Presented as a large inflatable ball and accompanied by live performers, participants are invited to interact and play m-ball together to create evolving soundscapes. m-ball encourages us to explore, discover, observe and share in the relationships between movement, music, play and sound.
Using motion and audio sensors, data is sent over WIFI to be processed and transformed into musical phrases. Custom software was designed to process data as streams and triggers, wireless device software for sending data and a gesture recording tool for capturing video and all the data. Using capture video of play, interactive composing can be done using this 'virtual' setup.
---
Between the Trees (2018 - ) Interactive Sound Design
Between the Trees, is a site-responsive tree-installation, inspired by the connectivity of mycelium, the 'internet of the forest'. Framing the beauty of plants and revealing the delicate intricacies of usually invisible subterranean structures, this collaborative, interactive musical 'instrument', combines sound and light, live plant material and touch, gently reminding us of our connectedness to the natural world and to each other. Encouraged by a mysterious, mycelium-like creature, participants are invited to 'play' the installation by interacting with suspended, miniature ecospheres, creating original compositions together in real time.
Created as a free public event for all ages.
Between the Trees (2018) - 1 min clip from Melinda Hetzel on Vimeo.
Custom software was developed to capture touch interactions, generate music and lights.
Each interactive eco-sphere had an ESP8266 as it's controller, monitoring touch capacitance and controlling 4 light fixtures. Using an interactive generative machine to drive both the lights and sound using Abelton Live as the sound engine. A custom simulator was also developed to compose the work without installing the installation.
---
Demolish (2018) Sound Design
DEMOLISH delves into the destruction implicit in development and 'progress', through an enthralling blend of dance and physical theatre, a touch of mayhem and gold hot pants!
A moving, theatrical spectacle created by goldfields theatre-makers Rebecca Russell and Ken Evans, with performers Janette Hoe (dance artist), Christy Flaws and Luke O'Connor (physical theatre performers) with Clunes farmer, Christine Rowe and Dja Dja Wurrung elder Aunty Linda Ford.
Hard hitting truths, dance and destruction.
DEMOLISH promo from Rebecca Russell on Vimeo.
---
Camo Disco Composition & Sound Design
C1 Train Composition & Sound Design
Tritone & Singing Boards Sound Design
The Children's Gallery is a wondrous place for babies to 5-year-olds where children can explore, play, learn and for everyone who loves to dance, there is a 'camouflage disco' where children turn into spotty and stripy disco dancing animals.
Commissioned by Melbourne Museum, collaborating with in-house staff to provide music and audio elements for a number of exhibitions within the gallery, this project was large in scope and required many skills. From programming prototypes of interactive spaces, providing surround sound mixes, composition, arranging and recording of musicians, visual directing and evaluation sessions with children and their adults. The project was both challenging and very rewarding.
---
Cerita Anak (2016 - ) Composition & Sound Design is an immersive show for young children and their adults. This show is a collaboration between Polyglot (Australia) and Papermoon Puppet Theatre (Indonesia) over the last 2 years. All the music has been written for this project, along with designing a 6.1 surround audio system.
Ideas explored in this project involved telling story across age and cultural boundaries. Having both a young audience and their adults and creating a meaningful and emotional journey whilst being sensitive to the needs and providing an inclusive and supporting sound track was challenging. This has been an area of exploration whilst working with Polyglot over the last few years.
An amazing journey while developing, collecting stories, exploring ideas in Yogyakarta and prototyping at ArtPlay (Melbourne).
---
Voicelab (2014 - ) Software Design is a unique creative installation module for collecting the thoughts and opinions of children. Working along with Lachlan MacLeaod and Nick Barlow, together we designed a space for a single child to enter a dome and interact with Voice Lab. Software was made using Supercollider to play/record audio and using custom hardware using the Arduino platform for controlling lights. This is a great example of a creative-code project with technology being used to create a play space. This project continues to visit and collect kids opinions, working with organisations for evaluation (Anglicare, University of Melbourne, Yarra City Council), while we improve and explore different iterations as well as add features to this work.
---
Separation St (2013 - ) Composition & Sound Design is the most ambitious Polyglot show so far, kids and their adults are separated at the beginning of the show. Winning a Green Room Award, co-created with
The Suitcase Royale
Separation Street is Polyglot's Green Room Award-winning interactive theatre performance for children and adults, co-created with
The Suitcase Royale.
Separation Street tells the story of Frank, who hears a call from the stars and knows it's his mission to save whoever is out there. In a simple but radical premise, the adults and children in the audience are separated at the beginning of the show. Frank's story is experienced by both groups at the same time, but along completely different pathways. Separation Street illuminates the relationships between adults and children, and explores notions of power and control, isolation and belonging. This immersive journey is moving, exhilarating and fun.
---
Ants (2012 - ) Sound & Hardware Design is an interactive roving performance which has giant Ants bringing children together in a gentle and intriguing landscaping project.
Faced with hundreds of giant bread crumbs and three big insects, children are irresistibly drawn in to discover what the Ants want them to do. Gradually a world of meaning unfolds, illustrating the human desire for order by transforming any public space with wavering lines and patterns, crossing adult lines and disrupting the everyday.
Ants is an enchanting investigation into the nature of work and children's relationship with their environment.
---
Drawbridge (2014) Sound, Hardware & Software Design a collaborative process between Papermoon Puppet Theatre (Indonesia) and Polyglot saw the key artists of Papermoon visit Melbourne for a month-long process of developing the work alongside several partnering schools to create a final participatory exhibition work presented by Fed Square across six days.
---
bip Software Design is a new way of creating beats on your iphone.
bip is a fantastic creative tool for playing, recording and performing musical rhythmic patterns. Starting with the simple idea of a programmable generated beat, touch and hold gestures are used to select beats and patterns. Patterns of recorded beats can be mixed and matched along with a touch-strip controller for transforming beats. Choose from track templates for quickly creating tracks or spend the time importing and tweaking beats with your own samples. Record and export recordings either as a loop or as an entire song.
Download here from the App Store.
---
synthmate ii Software Design Simple, intuitive and colourful, this app is for anyone wanting to explore making music with their iOS device.
Rebuilt from the ground up, for all iOS devices, synthmate ii is a new, simpler version of the popular synthmate.
Requests for new features are encouraged.
Download here from the App Store.
---
2breathe Software Design & Composition uses smart, connected technology to deliver the ancient wisdom of sleep-inducing breathing exercises in an easy and effective manner. 2breathe transforms your breathing, in real time, into tones that gradually guide you to prolonged exhalation and slow breathing.
Download here from the App Store.
---
storeplay Software Design is an integrated App and Web based music subscription service providing retailers, restaurants, hair salons or any other commercial premises with curated music playlists to enhance the ambience of their stores.
Download here from the App Store.
---
Madame Tulalah's Magnificent Box (2016 - ) Sounds & Hardware Design is a one-on-one experience with part drag queen, part automaton – Madame Tulalah - offering a convenient yet insightful consultation at the touch of a button. A custom hardware midi controller was built to use with QLab and also to control motorised curtains and lights using a Teensy 3.0 board.

---
Fly By Night April (2013 - ) Software Design takes full advantage of Apples iPhone platform to present an immersive experience. Using Location, Motion, Media and Bluetooth Services along with iBeacon technology, the iPhone becomes both a presentation and a multi-sensor device. Using orientation and position in space provides information on how to present the content within a context. Also taking full advantage of fast multi-streaming video and audio playback, smooth and seamless content can be presented reliably. Quality of content is also presented at the maximum possible quality on the device with ease. Developed side by side with performative elements along with sound design, the app immerses us into a world inside reality.
Fly By Night 2015 - trailer from Melinda Hetzel on Vimeo.
---
Urban Cocoon (2013) Sound Design creates a momentary incursion into public space. It forms a whimsical and transformative space within the bustle of its surrounds. The work is conceived of as a transferable, site-responsive model which can be installed in any large tree. It uses the branches of the tree to rig interactive lights and sound, whilst the bulk of the experience is delivered via wireless headphones. The installation elements are easily adaptable, comprising miniature trees encased in transparent spheres, suspended in netting, which form glowing 'droplets' and a single 'moon'. The audio content can be workshopped locally and tailored to each specific site and community.



The Letter String Quartet (2010 - ) Violinist & Composition
---
Formed with a desire to present a fresh aspect to chamber music and collaborative works, with their collective experiences and skills, this quartet has been referred to as "Australia's new music dream team". Both playing and singing, they have collaborated with many accomplished Australian composers and musicians such as Mick Harvey, Ned Collette, Yana Alana, Bree Van Reyk, Oliver Mann, Marita Dyson, The Orbweavers, Andrea Keller, Wally Gun, Erik Deluca, Caroline Shaw, Maria Zajkowski, Evelyn Morris, Laura Jean, Ross McLennan.
TLSQShowCaseTeaser Short from soh_la on Vimeo.


Blue Grassy Knoll (1996 - ) Violinist & Composition
---
Over their 19 year career Blue Grassy Knoll have cemented their place as one of Australia's most well-loved, accomplished and enduring performance troupes. In recreating the silent movie experience the band sits watching the film with the audience, playing their own original compositions and using the film itself for their cues – a truly amazing experience to witness.

---
Dybbuks Sound Engineer
---
Turbulance Sound Engineer
---
Between Lands and Longings Sound Engineer
---
Circus Under My Bed (2014 - 2016) Sound Design
---
Pirates Sound Design & Performer
---
The Promise Sound Design & Composition
---
Carers Project (2016) Composition & Sound Designer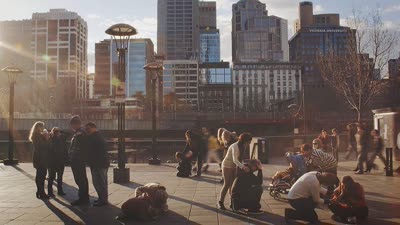 ---
The Litchenstein Nursing Home Massacre Sound Design
The Rise and Fall of the Scarlet St Theatre, Episode 2 Sound Design
The Cautionary Tale of Barry von Peabody
and the Scarlet St Theatre, Episode 1 Sound Design
---
Catalogue Sound Engineer
---
Blood Death Show Sound Designer
The Cabin Sound Designer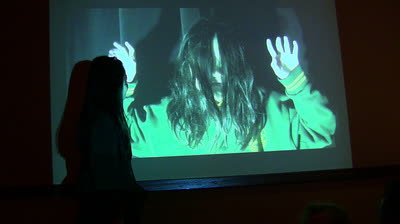 ---
Hong Bao Installation Sound Design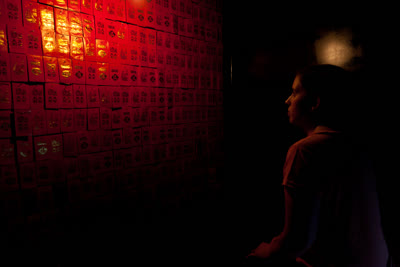 Art Cat Sewell & Nancy Sposato
---
The Ballroom (2016) Sound Design & Engineer