Shadowplay
Shadow Play is an immersive participatory space, inviting audiences to create shadows using light projections. Using just their bodies, participants can create creatures and narratives with their shadows, immersing themselves in a world. Using manipulated live video and a generated soundscape, this work plays with the digital double, provoking and transforming shape and motion into magical elements. The work is also supported by a live sonic landscape, responding and provoking audiences and part of the creative making.
Presented as an inclusive space, where sound, light and shadow are completely driven by the presence and participation of all audience members. Shadow Play is a space to celebrate being present, owning the space and thus a feeling of belonging.
Working with the body's shadow, reflecting a silhouetted double, this work creates a phantasmic projection of the subjects body, playfully challenging the notions of identity, self and other. Alone or as a cohort, participants projected bodies can take on new forms. [MORE]
The design of the work is simple. A projector, a depth camera and computer and small sound system. Projections would be onto an existing wall. This design can be easily transported for workshops and the setup is quick. The design can also be scaled. Bigger projectors, more projectors, bigger sound system.
shadowplay prototype from soh_la on Vimeo.
The development process would be a collaboration between myself, a digital visual artist and/or costume designer, a movement/performer and a composer. Working together we would visit schools, presenting workshops to explore the possibilities of shadow play using our bodies. The second part of the process would then bring the elements together. Lastly, the work would then return to schools as a finished work and ready for future presentations.
As part of the workshops, I will look into any barriers to participation and how I might engage and respond to participants who have diverse access requirements. Building on previous relationships, this project will re-engage with Warringa Park School and Croxton Specialist School. Working with young people and their diverse needs will provide invaluable time to explore and develop this work and further support my relationship with these communities.
---
m-ball
m-ball has been lucky to have received funding from Darebin Arts Partnership Program (2019) to further develop m-ball. Working with targeted organisations, I presented a series of workshops using m-ball as a musical instrument. Points of interest include collaborative, interactive, musical composition and participatory performance-making. Partnering with disability organisations focusing on accessibility and developing our inclusive arts practice, this development process gave me valuable time to further develop the work and to foster my relatiohsips with Croxton Sepcial School and Northern Support Services.
m-ball prototype from soh_la on Vimeo.
Further software developments have included :
• Vide + Data Player : a desktop app to simulate multiple virtual devices. each device can playback video and sync data alllowinng from rapid development of musicla instruments and data analysis algorithms.
• begun using machine learning to help identify gestures using Wakinator
• mini hardware version : prototyping of components, ESP32, sensors and power management.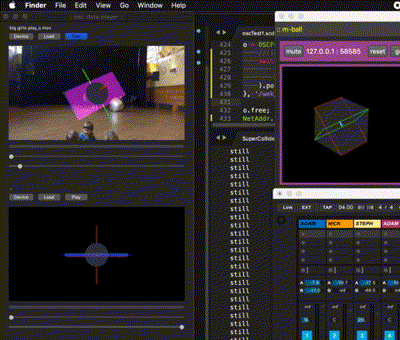 m-ball mini prototype from soh_la on Vimeo.
---
he.rd
'he.rd' is a participatory sound experience using you and your mobile phone to create an experience that spans across several days. It begins at home, then brings an audience together to a designated location to participate in a group ritual blending sound art, technology and participation.
This work's intention is to tear apart the different forms of making and presenting art, embedding technology within the work and expanding the definitions of performance space. This work embeds itself in the everyday life of it's audience and moves into an immersive participatory performance of ritual, herd behaviour and sound.
Your phone becomes part of you, your identity and your entry point into an immersive sonic world. The work begins when you first open the app, tells other participants you have joined and have begun the journey. Over the next few days you can open the app anytime to hear a generated sound track using the locations of all the participants. As you move through your day, travelling or staying at home, the soundscape reflects you and those around you.
Hours before the performance, you are notified to begin preparing. Then, as you travel to the performance location, sensors on the phone begin to wake up, beginning to contribute to the soundtrack. It is now driven by which way you are facing, how fast you are travelling and how noisy it is around you.
As you approach the performance location, you can see others who look like they may be participants. But are you sure? Suddenly you hear a voice, 'Stop' it says. 'Look. Can you see them? Are they looking at you?' Through sound and voice, you begin to participate in ritual and become immersed into a world of strangers, to fear the other, to care for them, enter into imaginary portals and warp reality in a new shared experience.
he.rd prototype from soh_la on Vimeo.
---
tome
Tome is an interactive, sound-based installation designed specifically for children and their grownups. Appearing as a field of strange, glowing, spherical objects strewn across the foyer floor, participants are invited to create sound and light using proximity of hands and body to the installed objects. Real-time compositions are generated while responsive splashes of colour are illuminated within each sphere. Inspired by the joy of making music with others, this cooperative musical instrument encourages participants to explore and share the possibilities of creating immersive musical worlds together.
Tome goes hand-in-hand with a program of participatory, artist-led workshops. Each workshop is an oppurtunity for young audeinces to explore the musical possibilities more deeply, working together to create small performances using this unlikely 'instrument'.
---
Infinity Dance Jam
Infinity Dance Jam is an interactive installation that is designed for art centres, galleries, early education hubs and dance festivals. It promotes accessibility, community and the universal nature of dance!
The structure for the work is a big screen that invites the public to dance in front of it. The dancer's images are then captured and projected live and multiplied to INFINITY!
The work acts like a time capsule and captures all the participants and their dance moves over the period the installation exists in a space. The result is one big video collage filled with different bodies of different abilities, cultures and generations all dancing together.
IDJ is an exploration into pairing movement and motion capturing technology with a highly shared community experience. Using depth camera data and machine learning algorithms, dance movement is translated to musical gestures and dynamic visuals. This interaction between movement, visual and music, creates a feedback loop completely controlled by the participants, giving them control and ownership over their experience.
idj prototype from soh_la on Vimeo.
idj prototype from soh_la on Vimeo.
---
Sound Narrative
Inspired by a creative development working with Insight Education Centre for the Blind, Dinjerra Primary School with Polyglot, this exciting project will be further developed. A number of test prototypes have already been used and explored. Stay tuned to this new and exciting interactive story telling project.